Portugals airports are open, here are the details: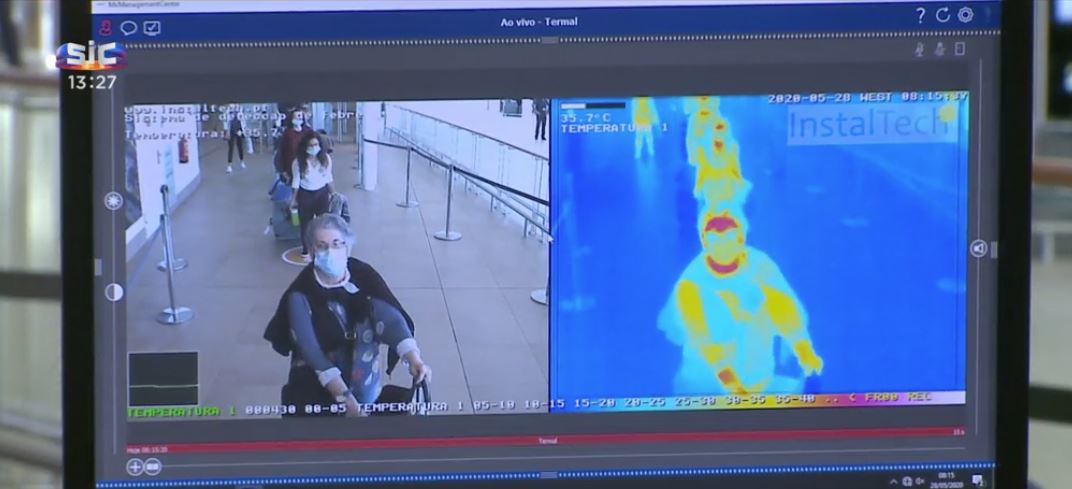 ANA Aeroportos de Portugal has reinforced protection and hygiene measures in its airports, so that passengers feel safer flying.
The measures applied in all ANA Airports comply with the Contingency Plans, which were validated by the National Health Department (DGS) and with the legal requirements defined by the relevant authorities.
ANA is also working alongside with the Tourism Board and several other local and national industry partners, in order to guarantee an integrated safe journey chain.
SITUATION TO DATE IN PORTUGAL
Following international recommendations, Portaria 125/2020 de 25 de maio revokes Portaria 106/2020 de 2 de Maio that defined the limit of capacity in aircrafts. As from June 1st aircraft may operate with their regular capacity - https://dre.pt/application/conteudo/134394013
OPERATING CONDITIONS AT AIRPORTS
All 10 ANA airports remain open and are operating to date.
PROTECTIVE MEASURES IMPLEMENTED TO DATE
PERSONAL PROTECTION
Hand sanitizers widely deployed in terminals following staff and passenger processes;
Passengers and staff are to wear facial mask/protection inside the airport.
CLEANING AND DISINFECTION
Cleaning routines using hospital-like disinfectants, with permanent teams in passenger and staff areas;
Additional disinfection with Zoono-branded product Microbe Shield Z-71;

Disinfection of equipment such as wheelchairs, carts, trays, conveyor belts, ATM, seating, walkways;
Advanced cleaning technology, UV equipment for disinfection;
Protection and Disinfection Kits available on vending machines;
Improved air renewal system inside the terminals.
DISTANCING AND PASSENGER JOURNEY
Allocation of non-contiguous counters at check-in, bag drop, e-gates, when feasible;
Specific signage and voice announcements to help passengers comply with physical distancing;
Queuing layout adapted at Security, Border, boarding gates, for instance;
Reduced capacity inside Airport Lounges, Smoking Areas (under development, according to reopening);
Glass or Plexiglas separators at check-in and information counters;
Second monitor to support boarding by aircraft seating zones, when feasible;
Passenger flows redefined to avoid unnecessary contact;
All shops, restaurants and other spaces for commercial activities follow the general rules defined by the Portuguese legislation.
CONTACTLESS
Exploring new contactless solutions (Centre of Excellence for Innovation of VINCI Airports);
Revised layout of boarding gate for self-boarding by passengers;

Sanitizing equipment with sensors or pedal to avoid hand-contact;

Parameter-setting of elevators to avoid hand-contact.
HEALTH CONTROL
Walkthrough Camera system for temperature scanning at Lisbon, Porto, Faro, Madeira and Ponta Delgada Airports. This type of equipment enables a more flexible flow, decreasing, to the extent possible, inconveniences for arriving passengers;
Isolation rooms for specialized teams to deal with any suspect case at arrival.
INFORMATION
Posters and videos displaying in terminal focusing on sanitary, hygiene and behavioural recommendations;
Direct communication with passengers using social media and airport website.
ANA is fully committed to ensuring protection of passengers and the Airport community. These measures are constantly monitored and enhanced whenever necessary. Reinforcing protection, cleaning and disinfection is our priority.
Travel safely at Aeroportos de Portugal
Note 1: The measures listed above may be amended following new rules defined by the authorities.
Note 2: Additional measures are in place at Madeira and Azores Airports. For further information, check:
https://www.ana.pt/en/corporate/ana/specific-measures-autonomous-regions-of-madeira-and-azores
Note 3: Please contact the airports individually for more details about their local action plan.