Vilamoura's changing ownership
Vilamoura is a beautiful holiday destination  in Portugal's Algarve, but many don't realise that it didn't exist 50 years ago.
It isn't a village which developed into a tourist centre but instead was conceived deliberately as a holiday resort.
Many also choose to settle here, as with over 320 days of sunshine and interesting tax breaks for European retirees it is fast becoming the base of choice for those looking for a safe warm place to emigrate to.
The infographic below shows the time line of ownership which changed  an area of open fields to possibly one of the best beach destinations in Europe. With it's 1000 berth marina, winner of this years International Marina award at the London boat show, 6 championship class Golf courses, home of the Portugal Masters and miles of beautiful beaches it holds something for everyone.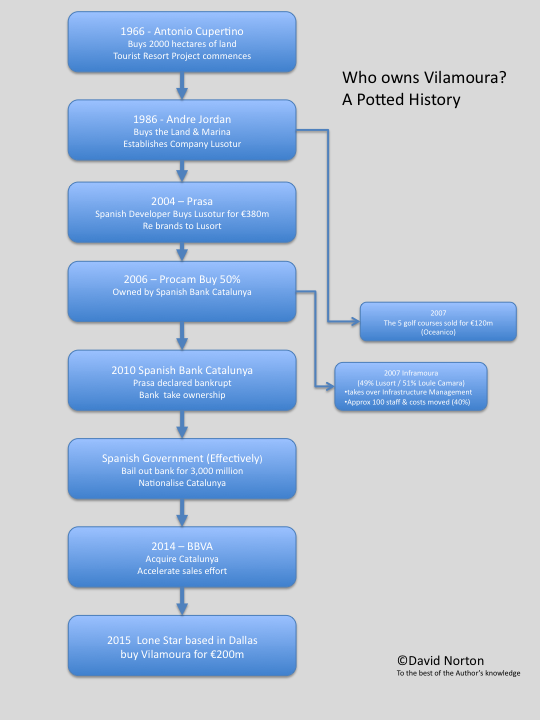 So the sale of Vilamoura which we discussed back in February is now public knowledge. The new owners, Lone Star a private equity firm that invests in distressed assets, based in Dallas, Texas (quote) "intend to strengthen and revive the resort through a long-term investment plan…"
So as they say, let's watch this space.
If you are viewing this via our e-mail distribution system you can visit the full blog by clicking here
Norton & Mackenzie offer a comprehensive portfolio of property management, long term rentals and quality holiday lets in Vilamoura.
In addition we are fully conversant with the new law regarding renting out holiday properties in Portugal should you require advice about getting a license and being compliant. Previously there were no active checks carried out, no action actually taken and hence no penalties transpiring. Under the new regime the newly appointed authorities (ASAE) have full transparency from analysing internet advertising to physical visits to properties to check who is in residence. More importantly they have the resource to do this which the local councils never had. There is evan a liaison between the tax office and  utility Companies to cross check consumption in "empty" properties. 2015 will be the year of enforcement.