Ship will sink on Saturday! - Algarve Portugal
Next Saturday the 21st of September the ship Almeida de Carvalho will sink off the coast of Portimão at precisely 13:00 GMT!…
How do we know? In a huge project off the coast of Portugal's Algarve a total of 4 ex military warships are to be sunk to create a new reef eco system which will be studied by scientists. The Ocean Revival Project supported by PADI will also provide a fantastic new opportunity for diving enthusiasts amongst what is set to be one of the largest artificial reefs in the world to be known as "The Underwater Park in Algarve"
3 of the ships have already been sunk and the 4th is scheduled for this weekend. The best place to watch the event from land is from the beaches of Alvor or Dois Irmãs, the ship will be 1 1/2 miles off shore.
The full programme is as follows:
07:00 – 09:00 Trailer the Hydrographic ship to the Ocean Revival Park
09:00 – 11:00 Positioning and anchoring the vessel in position
11:00 – 13:00 Preparation for sinking
13:00 – 13:15 "Almeida de Carvalho" ship deliberate sinking.
13:15 –  14:00 Waiting Period
14:00 – 15:00 Diving inspection of the ship
15:00 – 16:30 First official dive.
There will be a real time video stream available at: http://www.ustream.tv/channel/oceanrevival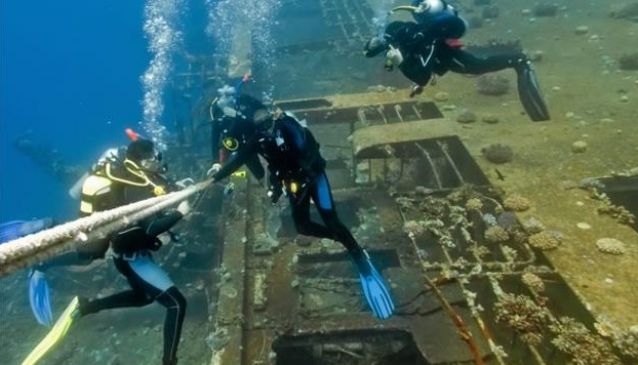 Here is a video of the ships being mustered.
For more details take a look at this link: http://www.facebook.com/oceanrevival.org